Quarry Ridge's HeatedDriving Range!
Improve Your Swing in Comfort, Any Season, Any Time at Our Heated Driving Range in Ottawa Lake, Michigan
Year-Round Golfing: Experience the joy of golfing regardless of the weather. Our heated range ensures you can practice and play in comfort every day of the year.
Precision Practice: Enhance your skills with focused, uninterrupted practice sessions.
Comfortable Atmosphere: Enjoy the game without the chill. Our heated golf range provides a cozy atmosphere, allowing you to concentrate on your game. 
⭐⭐⭐⭐⭐ 250+ 5-star reviews on Facebook, Google, Golf Pass. Join the satisfaction wave!
Hours of Operation
Daily 10am – 5pm
Elevate Your Practice at Quarry Ridge's Cozy Heated Driving Range
Come enjoy golf anytime at Quarry Ridge! Our heated driving range lets you practice your swing in any weather. Find out what makes our place great:
Special Fiberbuilt Mats:
We care about golfers' needs our range has special Fiberbuilt mats that reduce vibrations. Great for those with wrist or shoulder issues, providing a practice spot that's comfy and supports your well-being.
All-Season Comfort:
Don't stress about the weather. Our heated driving range has 18 mats with heaters, so you can practice your golf swing in warmth and stay dry, no matter the season
Top-Notch Experience:
Our range goes beyond golf—it's about turning your practice into something truly special. The heaters and mats make it super comfy, turning your practice into a cozy, fun time. Whether it's raining, snowing, or sunny, you can keep on golfing without a hitch. And our friendly staff and welcoming community make the experience even better.
Warm Up Your Swing: Quarry Ridge Heated Driving Range Pricing!
Small (25-30 Golf Balls)
Practice Comfortably Year-Round with Quarry Ridge Rates!
Year-Round Fun: Enjoy golf anytime with our heated range, making your favorite sport accessible and enjoyable regardless of the season.
Stress-Free Learning: Beginners find comfort in our heated facility, providing a relaxed space to learn golf without weather worries, ensuring a positive start to their golf journey.
Convenient Practice: With no weather limitations, our heated range allows you to practice whenever it suits you, adding flexibility to your training routine.
Medium (45-50 Golf Balls)
Practice Comfortably Year-Round with Quarry Ridge Rates!
Stay Consistent: Our heated range offers a steady climate, letting you practice in conditions like real gameplay for more consistent on-course performance.
Weather Won't Stop You: No matter the weather – rain, snow, or cold – our heated range keeps you practicing year-round, so you can stay connected to your golf passion.
Practice When You Want: With our heated driving range, you decide when to practice. No weather constraints mean flexibility, making it easy to fit training into your schedule.
Large (75-80 Golf Balls)
Practice Comfortably Year-Round with Quarry Ridge Rates!
Family Bonding: Craft enduring memories while sharing quality moments at our heated golf range.
Pocket-Friendly Thrills: Enjoy exciting experiences without draining your wallet! Our pricing is affordable, and with group discounts, the fun becomes even more budget-friendly.
Inclusive Fun: From seasoned golfers to first-time mini golfers, all ages are welcome to partake in the joy! Join us, whether you're a pro or trying golf for the first time.
Jumbo (175-180Golf Balls):
Practice Comfortably Year-Round with Quarry Ridge Rates!
Focused Improvement: Minimize distractions in our controlled environment, enabling you to concentrate on refining your skills for more effective and rewarding practice sessions.
Injury Prevention: The warmth from our heated facility ensures your muscles are ready, reducing the risk of injuries and promoting overall well-being before every practice.
All-Weather Excitement: Rain or shine, our heated golf range ensures the fun never stops. Experience the thrill of golfing in any weather, adding a new dimension to your family entertainment.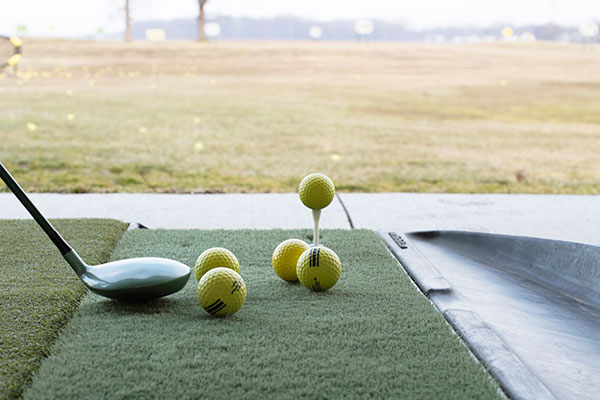 Quarry ridge golf course has the best heated range in the toledo area during the winter months in my opinion with the best prices. During the warmer seasons their outdoor range and 9-hole course are excellent for mastering your golf game. The staff are always very nice and the professional trainer Tony is a master at what he does and how he teaches.
Dive into Excellence: Join Over 250 Satisfied Golfers with ⭐⭐⭐⭐⭐ 5-Star Reviews on Facebook, Google, and Golf Pass!
Frequently Asked Questions –
Quarry Ridge Heated Driving Ranges
Is the driving range open year-round?
Absolutely! Our heated driving range operates throughout the year, providing you with a comfortable space to practice your swing in any weather.
How many mats are available, and do they have heaters?
We have 18 mats, each equipped with heaters. This ensures you can enjoy a warm and cozy practice session, regardless of the outside temperature.
What makes the heaters and mats unique?
Our state-of-the-art heaters and mats redefine the practice experience. They not only keep you warm but also create a sophisticated ambiance, enhancing the pleasure of your golfing journey.
Can beginners use the heated driving range?
Absolutely! Our facility welcomes golfers of all skill levels. Whether you're a seasoned pro or just starting, the heated driving range provides a comfortable and supportive environment for everyone.
How do the Fiberbuilt mats benefit golfers?
The special Fiberbuilt mats are designed to minimize vibration, offering a more comfortable experience. This is particularly helpful for individuals with wrist or shoulder concerns, providing tailored support during your practice sessions.
Do I need to make a reservation for the heated driving range?
While reservations aren't required, they are recommended to ensure you have a spot, especially during peak times. You can easily check availability and book through our website or by giving us a call.
Are there any special events or promotions for the heated driving range?
Yes, until the end of 2023, our range passes offer extra value based on your purchase amount! For example, if you buy $20, you get an additional $4 value. Stay tuned for exciting events and promotions on our heated driving range by giving us a call or checking our social media.
Can I bring my own clubs, or are rentals available?
Both options are available. Feel free to bring your own clubs, or if you prefer, we offer club rentals on-site for your convenience.